Aren't these beautiful!? I made this fish taco recipe from Chrissy Teigen's Cravings cookbook, and I almost didn't wanna eat them because they were so pretty!
Anyway… I ended up eating them.
And they tasted just as good as they look!
Fish tacos are literally in my top five foods.. if a restaurant around here has them, and I see them on the menu, that'll be my first choice. I try not to judge the restaurant on how good their fish tacos are, but I think it happens anyway.
In fact, I had some today for lunch (and some yesterday for lunch — from somewhere different.. ha!) Anyways, I definitely approve of these. They're nearly guilt free, and have some colorful (nutritious) toppings that ALMOST make them too pretty to eat!
Now, I got this cookbook a few weeks ago, and have only cooked a few things (this Vegetable Tortilla Stew being one), but they have all turned out so delicious! And her recipes are very easy with good ingredients. I'm hosting a giveaway for the cookbook that lasts the whole month if any of you wanna enter! It's for US/Can 18+ residents and you can enter through the widget below the recipe.
Use whatever fish you want, but I used haddock here. I'd never used it before and was looking for a nice white fish for the tacos. It's your preference or whatever you have available!
I had a bunch of leftover toppings, so I ended up pickling them (the cabbage, onions, and jalapenos). I added them to a big mason jar and added hot apple cider vinegar with salt and a little bit of sugar dissolved. I then used the pickled goodies on the next fish tacos I made… the next night ;)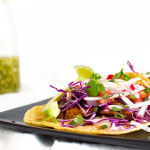 Skillet-Charred Fish Tacos
2016-03-08 18:19:04
Serves 6
Spicy pan-seared white fish on a warm corn tortilla with Sriracha mayonnaise, a spicy hot green pepper sauce, and all the fixin's.
For the spicy mayo
½ cup mayonnaise
¼ cup Sriracha
For the Fish
3 tablespoons chili powder
2 cloves garlic, minced
1 ½ teaspoons kosher salt
½ teaspoon freshly ground black pepper
3 tablespoons canola oil
1 ½ lbs. tilapia fillets (or your fav. white fish) (I used haddock)
For the Tacos
12 corn tortillas
1 cup finely shredded red cabbage
2 small tomatoes, diced
6 radishes, thinly sliced or julienned
½ cup sliced scallions
1 large avocado, sliced
Peppers Hot Green Pepper Sauce (recipe below)
Cilantro sprigs and lime wedges, for serving
Pepper's Hot Green Pepper Sauce
4 serrano peppers or 20 green Thai chiles
6 cloves garlic
3 tablespoons fish sauce (I used 2)
½ tablespoon brown sugar
Juice and zest of ½ lime
For Pepper's Hot Green Pepper Sauce
Add peppers, garlic and ¼ cup water to a food processor or blender, and pulse about 15 times until everything is chopped. Then blend until almost smooth. Transfer to a bowl and stir in fish sauce, brown sugar and lime zest and juice.
For the Spicy Mayonnaise
Whisk mayonnaise and Sriracha together until smooth.
For the Fish
In a bowl, combine chili powder, garlic, salt, pepper, and 1 ½ tablespoon of the oil. Rub spice mixture all over the fish. Heat a cast-iron skillet over medium-high heat. Add remailing 1 ½ tablespoons oil and when it just starts to smoke, add fish to pan. Cook about 3 minutes per side. Remove from heat, cool, and flake the fish.
Assemble the tacos
Warm tortilla, two at a time, in a dry skillet over medium heat, flipping after a few seconds. Stack the tortillas to keep warm.
Spread or drizzle some spicy mayonnaise on each tortilla, then add fish. Top each taco with cabbage, tomato, radish and scallion. Then add avocado and drizzle some of the Pepper's hot green pepper sauce. Garnish with cilantro and serve with lime wedges.
Adapted from Cravings Cookbook
That Square Plate http://www.thatsquareplate.com/
Chrissy Teigen's Cravings Cookbook Giveaway
Be sure to subscribe to receive a


weekly e-mail

update of

my


latest

recipes and hear about
special announcements


before anyone else! ------->

Excited to share another awesome project that includes one of my recipes! This is The Great Big Book of Green Smoothies that's just gone on sale for only $5. It features over 40 Green Smoothie easy-to-follow recipes from some of the web's best food bloggers, and a picture to go along with each.


Click the picture to find out more!

View my other e-books HERE.