I never really was a huge soup person.. but I guess I never really was a huge 'anything' person until about 10 years ago. It's been a gradual process drifting out of my picky-mindedness, but it's definitely the opposite of how I used to feel about food in general.
The only soup I ate growing up was a good ol' chicken noodle soup, and it was from a can… looking back I find it pretty sad, but I'm [hopefully] not even halfway through life, and I'm so glad my palate has expanded and I try new foods pretty often now!
I am a cookbook fanatic, and when I get a new one, I try to make a few dishes out of it before I file it away into my 'cookbook library.' I am a Chrissy Teigen fan, so I had to get her new cookbook Cravings when it came out. She's hilarious and beautiful, and LOVES food and cooking (not to mention, she has a little French bulldog). And the cookbook is exactly what I expected — it's awesome.
This was one of the best-looking recipes in the book, and I figured now was the time (if any) to make some soup! It's a spicy vegetable tortilla stew, that's got a Mexican flare. Peppers, onions, tomatoes, and black beans give this soup some stellar flavor and I loved the crispy tortilla 'strippies' on top!
I'll be sharing another recipe from the book ASAP, but in the meantime, you should enter to win your OWN copy of the book below. I love it so much, I've decided to do a little giveaway! Scroll down below the recipe to enter. The giveaway goes through the end of the month and I will ship the book through Amazon Prime to an 18+ U.S. resident. Good luck!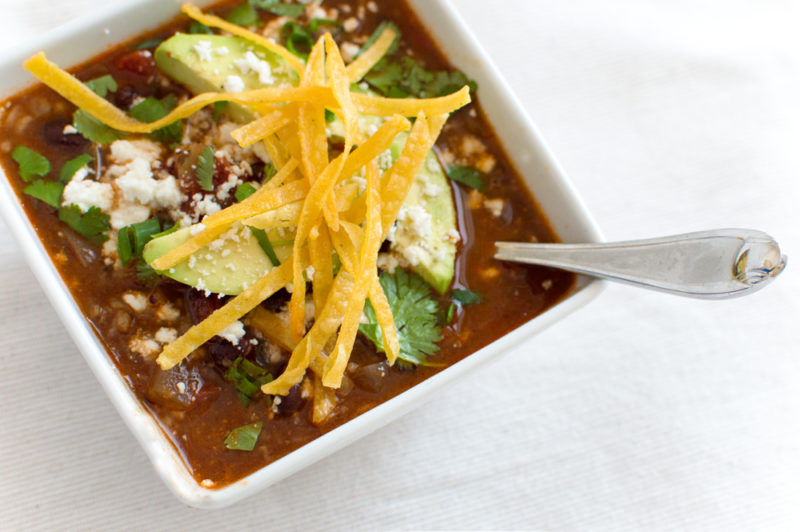 Vegetable Tortilla Stew
2016-03-08 17:54:09
Serves 8
A hearty vegetarian stew from Chrissy Teigen's Cravings cookbook. I love the crispy tortilla strips on top!
For the Stew
2 tablespoons vegetable oil
1 large red onion, diced
1 large green bell pepper, diced
1 large jalapeno pepper, finely diced with seeds
4 cloves garlic, minced
2 tablespoons chili powder
1 tablespoon ground cumin
½ teaspoon cayenne pepper
Kosher salt & freshly ground black pepper
4 cups low-sodium vegetable or chicken broth
2 (15-oz.) cans diced tomatoes in juice (I used fire-roasted)
2 (15-oz.) cans black beans, drained and rinsed
1 cup cooked rice
For the crispy tortilla strips
2 cups vegetable oil, for frying
4 corn tortillas
Kosher salt
For Serving
Roughly chopped cilantro leaves
1 avocado, sliced
Crumbled cotija or shredded cheddar cheese
For the Stew
In a soup pot, heat the oil over medium heat until shimmering. Add the onion, bell pepper, and jalapeno and cook until onion is translucent (about 10 mins). Stir frequently.
Add garlic, chili powder, cumin, cayenne, 2 teaspoons salt, and ½ teaspoon black pepper. Stir until fragrant about 2 minutes.
Add chicken broth, tomatoes, and beans and bring to a boil. Reduce heat and simmer for 30 minutes.
Add the rice and cook about 15 more minutes until thick. Season to taste with salt and pepper.
For the crispy tortilla strips
Fill a small or medium saucepan with a couple inches of oil and heat over medium-high heat. Stack tortillas and cut them into thin strips with a sharp knife. When oil is heated, add a handful or strips at a time to the hot oil, and fry until crisp (about 1-2 minutes). Remove to paper towels and sprinkle with salt.
To serve, divide soup among bowls and garnish with cilantro, cheese, and tortilla strips.
Adapted from Cravings Cookbook
That Square Plate http://www.thatsquareplate.com/
Chrissy Teigen's Cravings Cookbook Giveaway

Be sure to subscribe to receive a


weekly e-mail

update of

my


latest

recipes and hear about
special announcements


before anyone else! ------->

Excited to share another awesome project that includes one of my recipes! This is The Great Big Book of Green Smoothies that's just gone on sale for only $5. It features over 40 Green Smoothie easy-to-follow recipes from some of the web's best food bloggers, and a picture to go along with each.


Click the picture to find out more!

View my other e-books HERE.