So I feel like I have eaten more peppers this past week than I have in my life! Not such a bad thing, but Greg and I have come up with a super simple, full-of-flavor stuffed sausage recipe. My co-worker brought me a huge bag of yellow peppers last week, fresh from her garden. They were gorgeous and bright, but I really had no clue what to do with them. I didn't even know what type of pepper they were… she didn't either, we just knew they were bright yellow and had a very mild flavor. She said that they had stuffed them with sausage and cream cheese and they turned out delicious. I googled and it seems to be an Anaheim pepper?? So that's what I'm calling them for the sake of this post :-/
So I brought home a whole bag of about 40 or 50 beautifully fresh peppers the night before we were going out of town for 5 days to Birmingham. We decided to use a few of them that night. Greg had some shredded, Mexican-seasoned chicken in the fridge that we needed to use, so we decided to mix the chicken with shredded Monterrey jack and shredded cheddar, and STUFF THE PEPPERS! This was our TEST-BATCH — they turned out — pretty flavorful, but we made a few dumb mistakes…

For example:
Make sure you roast the peppers BEFORE you stuff them and remove the skin (DUH!)
Make sure you stuff them from a slit down the side of the pepper, NOT by cutting off the top, and trying to stick them in the top (DOUBLE DUH.)
The first night, I made a pico de gallo for topping, since the chicken Greg made has Mexican spices. Then I covered the peppers with STRING CHEESE (the only cheese we had in the house)! I stringed it off and laid it over the top, then set it under the broiler in the oven to melt and turn a bit brown. Here's the final product from the first night. (I liked the pictures!)
Ok, so we brought the rest of the bag of the peppers up to Birmingham, and finally decided to use them when we visited Greg's grandparents (who are in their mid & late NINETIES!) We went with the sausage/shredded cheddar/cream cheese mix (which was a CROWD pleaser!) We fixed our two DUH's from our last attempt…. and… they turned our perfect! They were all gone by the end of the dinner. Yum!
So, by the time we were back home, I wanted to share the recipe — but unfortunately I didn't have camera/etc. while I was up there, so I only got a cell-phone pic. :(
We finally got around to making them again this afternoon and I had to BUY the peppers from Publix this time. That's fine and all, but I bought these identical looking peppers and Publix [I noticed they were named: Hungarian Wax Peppers, btw]… we found out the hard way these were NOT the same thing. They were incredibly spicy! I was even talking to the cashier at the store and told her that these were nice and mild peppers. hahaha! Oops!
So when I tried to recreate these earlier, I broiled the peppers, peeled off the skins, and slit them down the side. De-seeded them with my bare hands.. (which I had done in Birmingham no problem).. and soon after… after Greg commented on the spiciness of the peppers… my fingers started to burn, and burned for hours. As well as my lips — but you know what, the flavor of these things was spicy, but cheesy and savory. I love spice, so it almost was all worth it.. but I did have a few more DUH moments — as in:
Don't assume that just because a pepper looks nearly the EXACT same — they MAY not have the same spice level. EEK.
Wear gloves when de-seeding a pepper.. or use a spoon or knife.
The pictures below are our rendition from today — we used a mozzarella cheese/cream cheese/sweet Italian sausage mix in the HOT Hungarian Wax peppers. (Glad we didn't get hot sausage!)
The recipe shared below is the final, favorite combo — a mild pepper, stuffed with shredded cheese (I preferred CHEDDAR), cream cheese and sausage (or shredded chicken) mixture.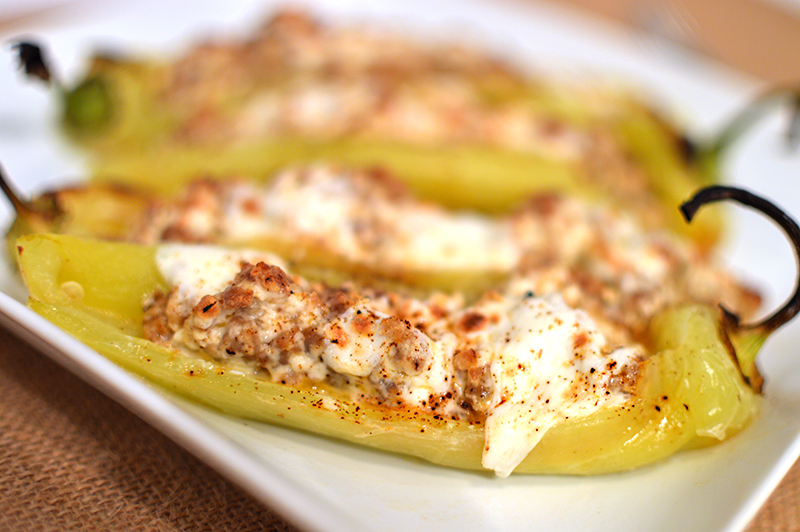 Cream Cheese & Sausage Stuffed Peppers
2015-08-08 14:36:32
Serves 4
Fresh mild peppers stuffed with a simple cheese and Italian sausage mix.
Ingredients
6-10 Anaheim Peppers or other medium-sized mild pepper
2 Italian Sausage Links
4 oz. cream cheese
1/2 - 1 cup shredded cheese
Salt & pepper, to taste
Instructions
Lay your peppers about an inch or two apart on a large baking sheet, and broil them on high in your oven for about 5 minutes on each side (or until the skins start to blacken).
Meanwhile, remove sausage from casing and brown sausage over medium-high heat while crumbling. cook about 8-10 minutes until starting to brown, and remove from heat.
Combine cooked sausage with cream cheese and half of the shredded cheese in a large bowl. Season with salt and pepper.
Cool peppers about five minutes and carefully peel skin off with tongs (or your fingers if cool enough). Slice halfway through from top to bottom careful to only cut one slit - don't cut all the way through. Scrape out seed with a knife or a spoon.
Line a large baking dish with foil, and lay peppers side by side.
Spoon sausage mixture into the peppers, and top with the remaining shredded cheese. Broil in the oven for 3-6 minutes, until cheese melts and begins to brown.
Adapted from http://www.thatsquareplate.com
Adapted from http://www.thatsquareplate.com
That Square Plate http://www.thatsquareplate.com/
While you're here, join my first giveaway by clicking
August 2015 Giveaway
. It is for a set of wonderful mixing bowls — I have the same set in my kitchen and use them often! The deadline ends 8/30/15, and I will randomly select the winner.
Be sure to subscribe to receive a


weekly e-mail

update of

my


latest

recipes and hear about
special announcements


before anyone else! ------->

Excited to share another awesome project that includes one of my recipes! This is The Great Big Book of Green Smoothies that's just gone on sale for only $5. It features over 40 Green Smoothie easy-to-follow recipes from some of the web's best food bloggers, and a picture to go along with each.


Click the picture to find out more!

View my other e-books HERE.