So my brother was stumped on what to get me for my birthday, so Greg asked me for some ideas. I said really any kind of cookbook would be awesome — that way it's KIND of a surprise, and pretty much all cookbooks are awesome. He ended up finding me the FOOD52 Genius Recipes 100 Recipes That Will Change the Way You Cook cookbook. It basically goes through 100 recipes and shares shortcuts, tips, and 'other-ways-around' traditional recipes. If this Caesar salad recipe is anything like the rest of the book, I'm looking forward to trying some more! It was perfect.
I read through some of the book today (thinking maybe I wouldn't have to go to the grocery store), and tried to find some inspiration… a recipe with ingredients I already had. I found this Romaine Hearts with Caesar Salad Dressing and realized we had everything I needed. This recipe doesn't use any egg or oil, but instead uses mayonnaise. The dressing was SUPER easy (the only work involved was grating cheese). Fill a magic bullet or small food processor with the ingredients and blend it up! Add more water if necessary, but I didn't need to. Then toss some Romaine leaves in the dressing, and top with some fresh grated pepper and Pecorino-Romano cheese. That's it!
I know this looks like some leaves with some dressing, but trust me – this was perfection… a perfect light side salad, that was super easy. The anchovies were still prominent and the texture was perfect to coat the Romaine. The tabasco and vinegar gave the dressing the acidity it needs, while the mayonnaise gave some creaminess. I was out of red wine vinegar, but used a mix of white wine vinegar and sherry vinegar — it was still a perfect flavor, and I'm going to keep coming back to this recipe.
We served this dish with some amazing fettuccine alfredo Greg made. The combination was perfect and I couldn't decide which I liked better!
Now I'm sure some croutons or bacon would be a great addition to this salad, but the kitchen is pretty empty right now!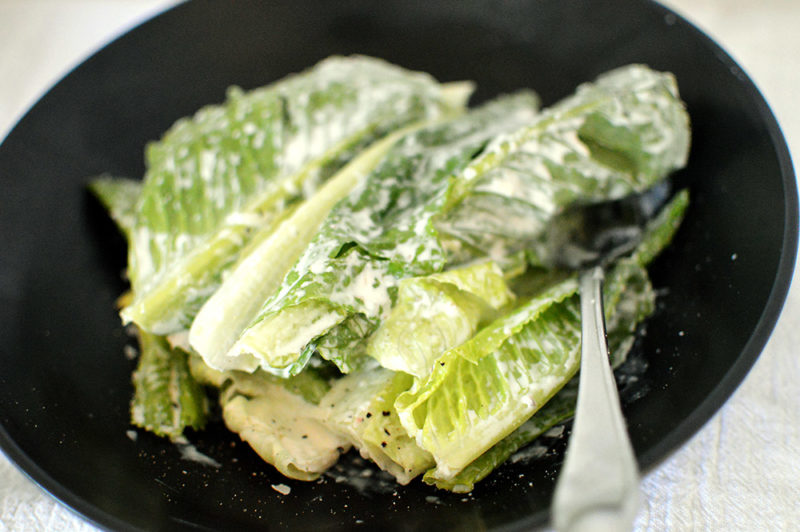 Romaine Hearts with Caesar Salad Dressing
2015-09-12 20:21:45
Serves 4
A quick & easy version of a Caesar salad that uses mayonnaise instead of egg & olive oil. Toss Romaine leaves with the dressing, add cheese & black pepper.
Ingredients
2-3 hearts of romaine (pull away the floppiest, greenest outer leaves)
1/3 cup grated Pecorino Romano, plus additional cheese for serving
1/2 cup Hellmann's mayonnaise
1/4 cup water
1 1/2 tsp. red wine vinegar*
1 garlic clove
2 anchovy fillets
1/4 tsp.Worcestershire sauce
1/4 tsp.Tabasco
8 turns freshly ground white pepper
Fine sea salt, if needed
Freshly ground black pepper
Instructions
Trim the root ends from the romaine, separate the leaves, and wash and dry them. Put the lettuce in the fridge to chill while you prepare the dressing.
Combine 1/4 cup of the Pecorino with the remaining ingredients (except the black pepper) in a blender and puree until the dressing is smooth. (If you don't have a blender, mince the garlic and anchovy, and whisk them together with the rest of the dressing ingredients.) Taste and add salt if necessary; the cheese, Hellmann's, Worcestershire, and anchovies are all salty, so you probably won't need any additional salt. Loosen the dressing with water as needed starting with the prescribed 1/4 cup.
Toss the chilled lettuce with the dressing in a large bowl. Transfer to serving plates or a serving platter and finish with a generous crowning of the remaining grated cheese and a few turns of black pepper.
Notes
Recipe found in Food52 Genius Recipes: 100 Recipes That Will Change the Way You Cook.
*I was out of red wind vinegar and used a mix of sherry vinegar and white wine vinegar (still good!)
Adapted from Frank Falcinelli and Frank Castronovo
That Square Plate http://www.thatsquareplate.com/
Be sure to subscribe to receive a


weekly e-mail

update of

my


latest

recipes and hear about
special announcements


before anyone else! ------->

Excited to share another awesome project that includes one of my recipes! This is The Great Big Book of Green Smoothies that's just gone on sale for only $5. It features over 40 Green Smoothie easy-to-follow recipes from some of the web's best food bloggers, and a picture to go along with each.


Click the picture to find out more!

View my other e-books HERE.