Sometimes, when I'm browsing through cookbooks, I run across one that I just have to make immediately.
In this case, it was these chicken tinga tostadas. I was searching for a chicken recipe to cook for the night, and found this one in Food & Wine's Annual Cookbook from 2012 (buy for $0.01 at Amazon). I've modified it from the original version, which was a taco recipe. I got a little fancier (or unhealthier, whatever you wanna call it), and I fried up the tortillas.
There's nothing better than that crunch to the tortilla!
I kept the basic recipe the same, except I had no diced tomatoes in the fridge, so I used some whole San Marzano tomatoes (ha!) — Mixing up some Italian & Mexican flavors never hurt anybody! You throw the whole tomato mix in the food processor anyway, so you're welcome to use either diced or whole.
I also added an extra chipotle pepper.. only because of my spicy taste preferences.
This was one of my favorite chicken recipes I've had in a while! Most foodies would prefer using chicken thighs with the bones (which is what the original recipe called for). Do everything the same if you use the thighs, but make sure to remove the bones before shredding the meat.
Tinga is a traditional chicken dish that originated in Mexico. It consists of shredded chicken, tomatoes, chipotle and onion — pretty much my heaven. I definitely prefer the texture of shredded chicken in Mexican dishes, and when you combine it with the crunchy tortilla, the spicy robust tomato sauce, and the light queso crumble and scallion garnishes, your tastebuds will go crazy! I LOVED this dish, and it really was super simple. Tinga is now a Whitney-favorite, and I can't wait to experiment with it more in the future!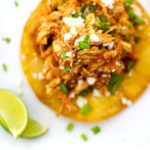 Chicken Tinga Tostadas
2016-06-07 15:42:27
Serves 6
A fried corn tortilla topped with chicken cooked in a super-simple tomato, onion, garlic & chipotle sauce. Garnish with queso fresco, cilantro and scallions.
Ingredients
¼ cup plus 2 tablespoons extra virgin olive oil
2 lbs. boneless, skinless chicken breasts
Salt & freshly ground black pepper
1 large onion, thinly sliced
3 large garlic cloves, minced
One (28 oz.) can diced tomatoes
3 canned chipotles in adobo, coarsely chopped
1 cup chicken broth
12 corn tortillas
2 oz. Cotija cheese, crumbled
Sliced scallions and chopped cilantro, for garnish
Canola oil for frying tortillas
Instructions
Heat 3 tablespoons olive oil over medium-high heat in a large non-stick skillet. Season chicken with salt and pepper, and cook until browned, turning once (about 12 minutes). Add chicken to a 9x13-inch baking dish and pour off fat from skillet.
Add the remaining 3 tablespoons olive oil and cook the sliced onion. Cook over medium-high heat until lightly browned and softened, stirring occasionally (about 5 minutes). Add minced garlic and cook 2 minutes more. Add diced tomatoes and their juices, the chipotles and the broth and bring to a boil.
SImmer the sauce for about 20 minutes until slightly reduced and thickened. Stir every few minutes.
Preheat oven to 350 degrees F.
Transfer sauce to a food processor and let cool for about 15 minutes. Puree until smooth and season with salt and pepper. Pour over chicken and bake, uncovered in the center of the oven for about 30-45 minutes, until the meat is tender and the sauce is really thick.
Near the end of the cooking process, heat about an inch or 2 of canola oil to about 360 degrees F. Fry the tortillas individually for a few minutes each until crisp like a chip. Remove to paper towels, and sprinkle salt over the top of each tostada.
Remove chicken from the sauce and shred the meat. Return shredded chicken to the sauce. Spoon chicken mixture onto each tortilla and sprinkle with crumbled cheese. Garnish with scallions and cilantro and serve hot.
Adapted from Food & Wine Annual Cookbook 2012
That Square Plate http://www.thatsquareplate.com/
Be sure to subscribe to receive a


weekly e-mail

update of

my


latest

recipes and hear about
special announcements


before anyone else! ------->

Excited to share another awesome project that includes one of my recipes! This is The Great Big Book of Green Smoothies that's just gone on sale for only $5. It features over 40 Green Smoothie easy-to-follow recipes from some of the web's best food bloggers, and a picture to go along with each.


Click the picture to find out more!

View my other e-books HERE.